Pneumatic Bag Seal Quick Detach – Poly Urethane (PBS-QD)
Features & Advantages
100% sealed – no dust leakage
Better than any inflatable clamp in the market
No Pinching Points
Quick to fit & remove bags
Available with most common quick couplings and connections, and available with custom connections.
Inflates in seconds and provides a tight seal on the neck / spout of the bulk bag eliminating product leaks.
Much safer for workers hands as there are no pinch points
Can be used on bulk bags with or without plastic liners, bins or containers.
Operates ideal under low pressure (0,3 Bar/4.3 PSI) making it safer for workers.
Strong and Durable
Easy to detach in only seconds for easy cleaning
Standardized sizes fast available
Custom made sizes fast available
Hygienic Poly Urethane material
Explosion safety
Food contact safety according to all big international regulations
No parts that can loosen and be lost in the machinery or bulk container or bag
Filcoflex Poly Urehane is non porous and easy to clean
Filcoflex Poly Urethane does not degrade
Can be used to fill or empty all sorts of bulk containers such as:
Big Bag
Plastic bag
Paper bag
Super sack
FIBC
Bin
Vessel
Drum
Bags and bins with or without liners
Bulk packaging
Pneumatic Bag Seal – Quick Detach
An Inflatable Seal that attaches to a filling head of a filling or emptying station for filling all sorts of Big Bags, containers and bins.
The name PBS QD stands for Pneumatic Bag Seal – Quick Detach.
Quick Detach meaning this version is available with a number of connecting methods that allow to quickly attach or detach this inflatable seal to the big-bag filling equipment.
PBS-QD is available in standardised sizes and in any custom size, both are in the same price strategy and are available with the same fast delivery.
Construction of the product
PBS-QD is built up out of three layers of Poly Urethane film of 1.0mm thickness. PBS-QD has a Stainless steel tube incased in between the 2 inner layers which are sealed airtight to prevent any accumulation of dust or fluids from inside the Big-Bag filling station and from the outside production room. The third layers is the outside inflatable blatter, which inflates outward to provide a 100% seal between the filling installation and the powder container or big bag neck / spout.
Welded in hoses, no loose parts.
Every type of coupling:
Jacob / KMH / NORO / Truduct
Tri – Clamp
Snap In Cuff
Hose clamp
Bolt Pattern Flange
Stainless steel tube encased in strong, flexible sleeve PU. Encased Stainless Steel ring to support lower end.
When inflated the outer Poly Urethane layer will securely hold the bag neck up and open for clean, efficient filling.
There are no pinch points to endanger operator's hands when fitting the bag.
Can be used with or without plastic liners.
Connecting method
Traditional Inflatable seals are fitted by being mounted on the outside of the tube or filling head. When the inflatable seal is pressurized it shortens and a pocket is opens up between the inflatable seal and the machine tube / filling head. In this pocket dust or powder can accumulate. In some applications this is not permitted. For those applications PBS-QD is designed.

PBS-QD does not slide over the filling spout or tube, but it connects to it. Because the seal is not fitted on the outside of any existing tube anymore there is no more gap where powder or dust can accumulate between the tube or chute of the bag filling station and the inflatable seal that slides over the tube. In case of manual cleaning the Inflatable Bag Clamp detaches and attaches in a matter of seconds making it an nearly effortless operation to clean.

Pneumatic Connection and operation
PBS-QD is built with welded in compressed air lines, made of poly urethane hoses. The hoses are completely airtight welded in to the upper rim of the Poly Urethane inflatable bladder. The 8×5.5mm PU air hose is suitable to use with any standard 8mm push in air fitting, allowing it to attached and detach within seconds.
The hoses are welded up straight to stay clear from the bulk bag. The inflatable bladder is 100% free of any obstructions, sharp edges or pneumatic fittings. The full bladder length can be used to clamp the bulk bag or container. Because there are no obstructions or fitting in the inflatable bladder, more bladder surface can be used making it easier to position or align Bulk bags or containers without losing time.
The 3D HF welding technique used to weld the hoses in the Inflatable clamp ensures a 100% seal. Each weld is tested before the Pneumatic Bag Seal is shipped out.
Threaded fittings create possible entry points in to the bladder. This can be classified as a hygiene risk.
By welding the hoses in the upper rim instead of using threaded fittings in the outside sleeve. The entire inflatable bladder surface is free of any sharp object.
Threaded parts can loosen and because of this parts can be lost in the machinery or bulk container or bag. Threaded fittings can start to leak, and can't be tied down because 1 side is not accessible to hold while tightening down.
PBS-QD as a standard comes with 2 hoses, divided over 180° from each other. The quantity of hoses can be anywhere between 1 and 6 pcs. The number of hoses has an effect on the speed of inflating and deflating.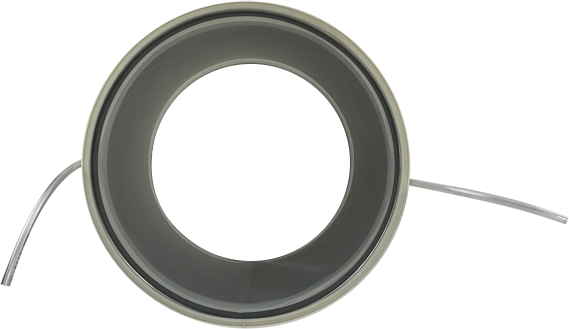 The distance between the hoses can be evenly spaced around the full 360° circumference. The hoses can also be orientated together on one side.
The Polyether Urethane hoses can be easily cut to length. The standard length is 175mm Simply use a pair of Multipurpose Miter Shears for the best and easiest cut.
Operator safety
There are no pinch points no sharp edges or metal objects in the clamping area that endanger the hands or fingers of operators. Safety instructions can be embossed in the PU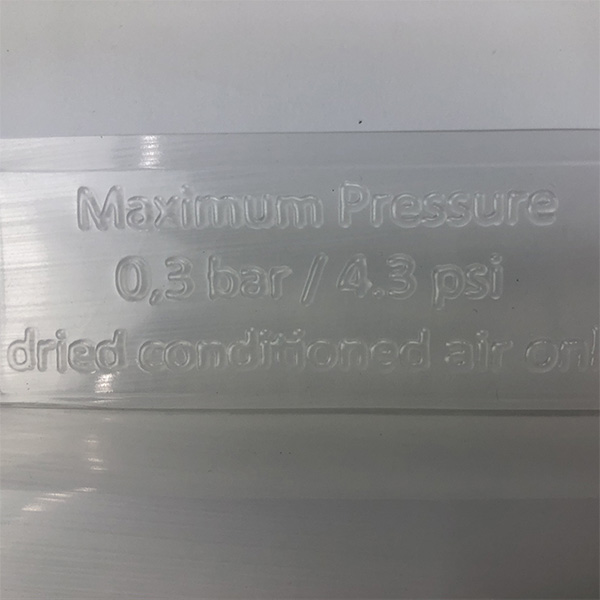 Air pressure / Compressed Air
The ideal compressed air line operating pressure is recommended to 0,3 Bar / 4.3 PSI.
If a higher pressure is required to reach a larger inflated diameter this is possible, the absolute recommended maximum pressure is 0.41 Bar / 6 PSI.
If air pressure recommendations are exceeded this may cause permanent damage to the inflatable bladder. Even though a higher pressure can be held in without any immediate burst, it is recommended to not to exceed the maximum pressure recommendations.
A hand operated button or switch as well as a food pedal can be used to operate the inflation of the seal. Filcoflex offers a full kit with a hand button.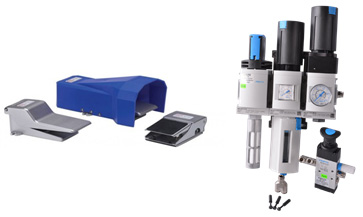 Connection Styles and Dimensions
Tri-clamp connection
LFR (L) or CFL
Length 350mm
Standards: DIN 32676 / ISO 1127 / BS 4825 pt.3
Standards: DIN 11864 / Sterivalve and others
Ø 100 – 315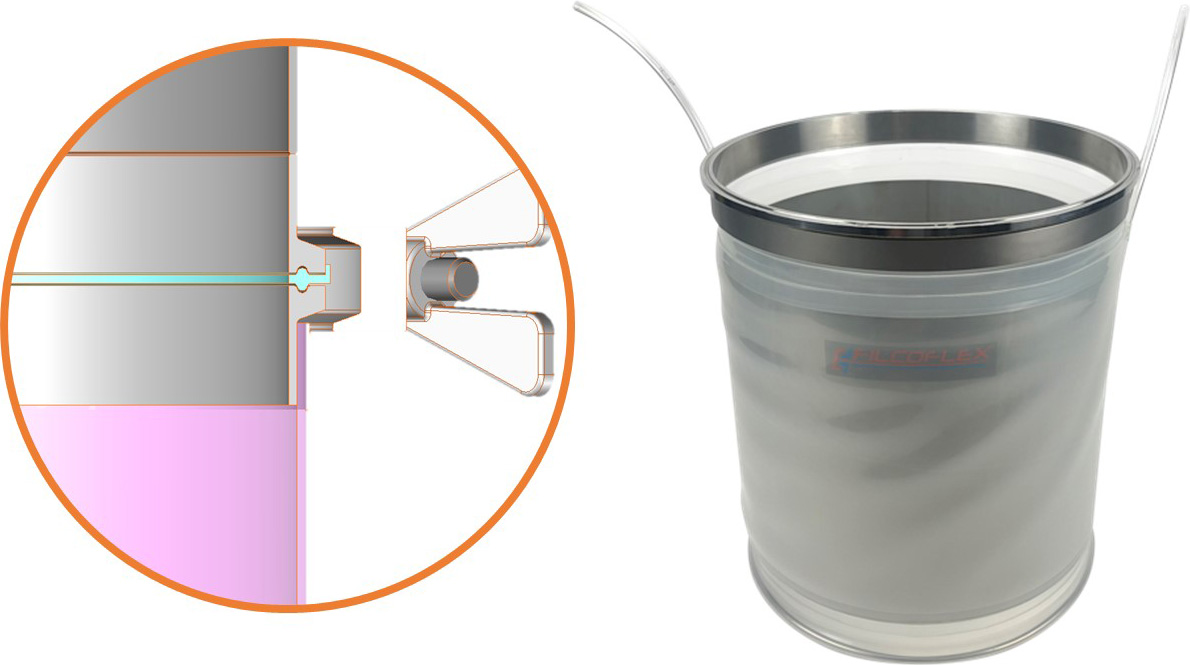 Jacob Connection
FSC (F) or FDM (M)
Standardized sizes
Length 350mm
Ø 100, 120, 140, 150, 175, 200, 224, 250, 280, 300, 315, 350, 400, 450, 500, 560, 600, 630
Snap In Flexible (B)
Length 350mm (+30mm Snap In Band)
Ø 200, 250, 300, 350, 400, 450
Unworked end for hose clamp (R)
Length 350mm (+30mm Snap In Band)
Ø 100 – no maximum diameter
Sealed in hose clamp (K)
Length 350mm (+30mm Snap In Band)
Ø 100 – no maximum diameter
Bolt Pattern flanges (D)
Length 350mm (+30mm Snap In Band)
Ø 100 – no maximum diameter
Every bolt pattern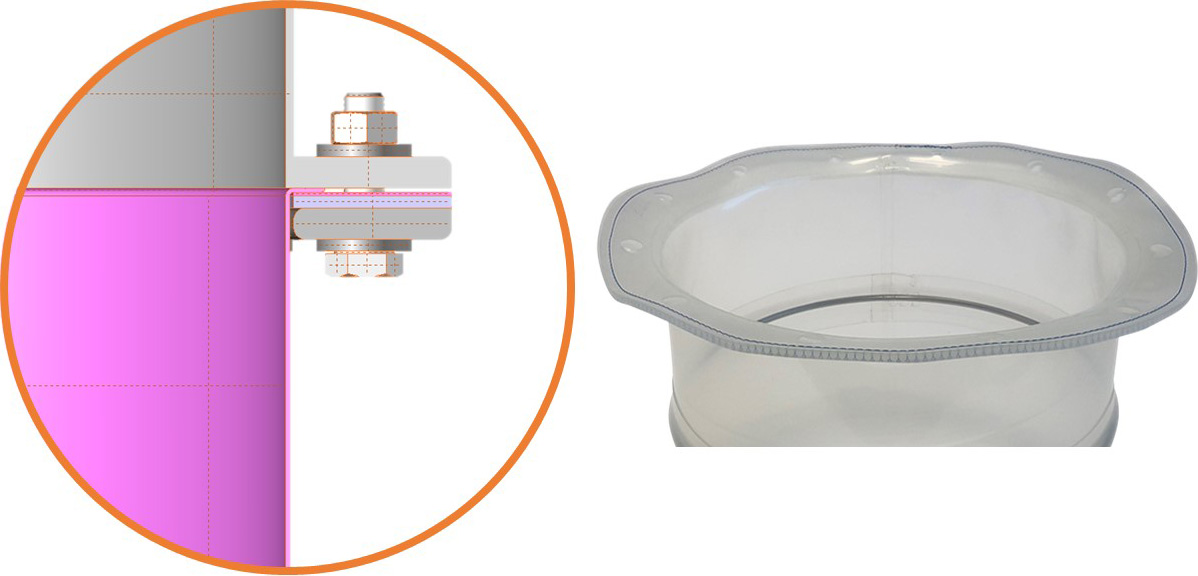 Categories: Bag Emptying and Filling, Dairy, Engineering, Filcoflex Flexible Connections, Flexible Connections Products, Food Processing, Industrial, Inflatable Bulk Bag Clamp, Mixing, Nutrition, Optional Product Features, Packaging, Pharmaceuticals, Powder, Powders, Sifting or Sieving, Weighing, Weighing Flexible Connections